I'm cake joy!
I have the best job in the world. I'm a Cakejoy, that's right, a Cakejoy. It took me years to figure out what my true passion was throughout life but when I finally figured it out, it was obvious. Baking has been a way of bringing people together since before recorded history and as the demand for custom cakes grew so did my skills and knowledge. Now, with all my experience under one roof at I help people celebrate their special occasions by baking unforgettable cakes with purpose!
My love for baking has grown over time to become more than just a passion – it's also a way that I can create memories for others and give back to my community and causes that I care deeply about.  ~Autumn Bell, Founder 
Cake Joy is a small, family-owned cake and sweets bakery. As business owners and parents, Autumn and Jason stay busy running after their two small children while juggling family demands and operating a small yet growing business.
They like to say, "we didn't find Cake Joy, but Cake Joy found us." Before Cake Joy, Autumn served in missions trips around the world; and every year made it a point to make a cake for their children's birthdays.
During her work, Autumn became keenly aware of the many blessings she and their family enjoy and that life's special moments should be celebrated no matter how big or how small or where you are. As more and more people asked Autumn to make cakes for their special occasions, she recognized the opportunity to combine her passion for helping others with her love for giving back through baking while supporting her family, and Cake Joy was born!
We enjoy a steady stream of loyal customers, which allows us to give back to a local charity every month through a monthly auction. We donate all proceeds to a predetermined charity. We've had the honor to support charities: Grace Place, The Jason Foundation, Humane Society, and Autism Tennessee.
We love to create beautiful cakes for special occasions that are both a work of art and delicious! If you need a cake for a special event or a centerpiece that guests will rave about, we're ready to create something fabulous that combines your ideas with our imagination.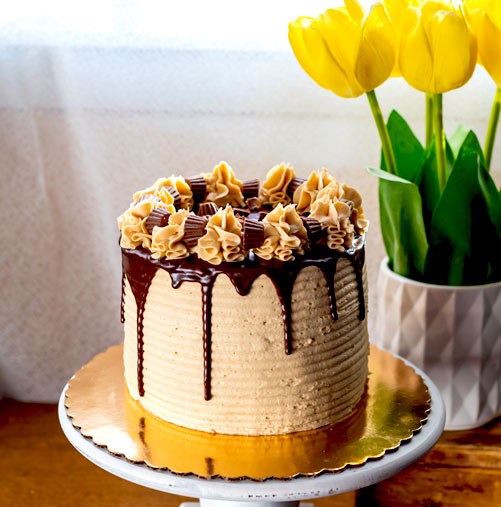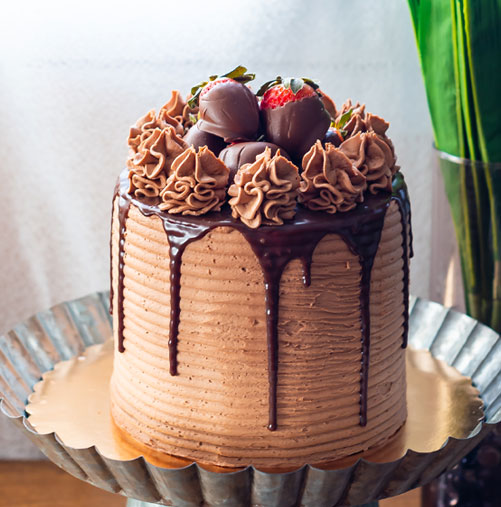 Chocolate Covered Strawberry Cake 
Some of our most popular special occasion cakes include first birthday cakes and smash cakes, graduation cakes, and elegant-tiered wedding cakes. But one of the most unique cakes we get to bake are our Pup Cakes! 
Pup Cakes have become such a phenomenon. It started when a local dog trainer asked if we could make a cake to celebrate the "graduation" of the pups who graduate from training. Well, we'd never made a cake for a dog before – we're game to try anything. It took a few tries, but before too long, we had a winner! A dog-safe treat that dogs love and owners love to give.